For more information about plot rentals, volunteer & educational opportunities,  summer internships, and more, contact:
Kyle Bray – Assistant Director of Service-Learning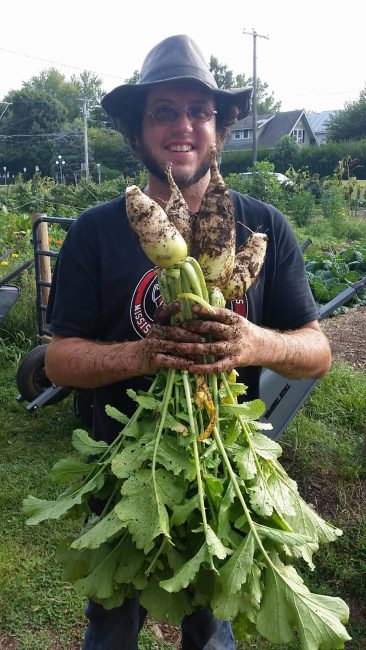 Kyle Bray is the assistant director of service-learning at Bucknell University, where he is heavily involved in campus and community-based food security efforts, such as the award-winning Lewisburg Community Garden, the Bucknell University Farm, and the Sowing Change food access resource network. A native of southern Louisiana, Kyle's passion for food justice started with a tiny garden at an after-school program in Hattiesburg, Mississippi, and a desire to protest inequitable school district meal policies. Since then, he has helped establish school gardens in Portland, Oregon and Jackson, Mississippi, and has volunteer with community gardens, organic farms, and farmer's markets around the world. When he's alone at the Lewisburg Community Garden and listens deeply, Kyle swears that he can hear the plants growing.
Kyle serves as the supervisor for the Lewisburg Community Garden. In addition to establishing policies and priorities with the assistance of the LCG Advisory Board, Kyle manages the Garden's finances, collaborates with faculty and students to utilize the Garden as a service-learning and field research site, and works with Bucknell and Lewisburg Borough administrators to ensure that the Garden remains a vibrant part of the community. Kyle can be reached at kwb004@bucknell.edu, or 570-577-3928. 
Jen Schneidman Partica – Farm and Garden Coordinator
Jen farms to fix an unjust food system. She works collaboratively with students, staff, faculty and community members to grow vegetables and fruit organically and donate it to local food banks and free community dinners. Jen comes to farming after running a small vegetable CSA, co-leading a local community garden, working with local farmers as a Peace Corps Volunteer in Ghana, and generally loving the thrill of growing a plant from a seed.
Jen is responsible for the day-to-day management of the Lewisburg Community Garden, including deciding what to plant, determining when things are ready to harvest, and setting weekly task priorities. Additionally, she coordinates many of the Garden's special events, including the free Community Enrichment Workshop Series, and assists plot renters with troubleshooting issues. She also plays a key role in the development and management of the new Bucknell University Farm. Jen can be reached at jsp030@bucknell.edu, or 570-577-2212. 
Rachel Herman – Food Access Coordinator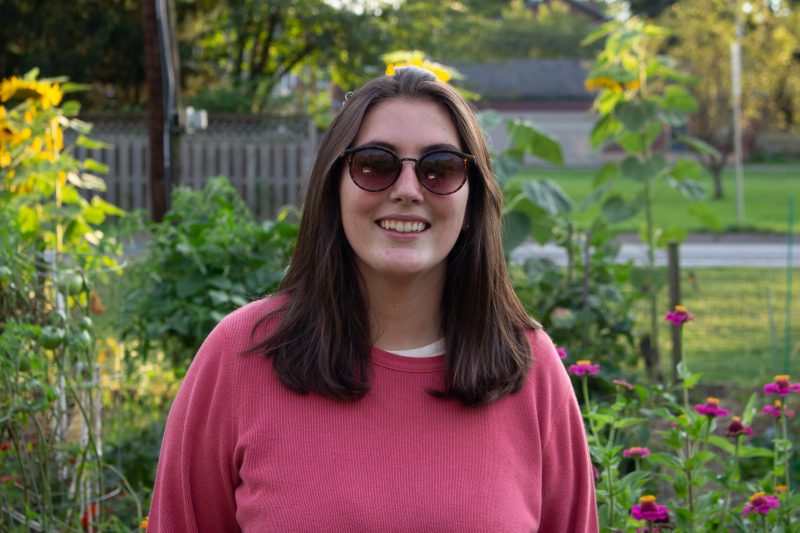 Rachel serves in the garden as an AmeriCorps member who believes in building healthy communities through healthy food. She coordinates with volunteers and local community organizations on a daily basis to ensure the distribution of organic produce from the garden to the local community. Rachel comes to the garden as a recent graduate of Gettysburg College with a degree in Biology and Peace & Justice studies with hopes of entering a graduate program in public health. 
A one-year AmeriCorps appointment, the Food Access Coordinator supports several food access programs, including the Lewisburg Community Garden, the Community Harvest hot meal program, and the K-12 Snack Pack brown-bag supplemental program. This position ensures that produce is harvested and donated in a timely fashion (with a goal of preventing as much food waste as possible), and recruit volunteers to support our food access endeavors. Rachel can be reached at rh044@bucknell.edu. Her office is located inside the Office of Civic Engagement.
Sarah Wochele – Outreach and Education Coordinator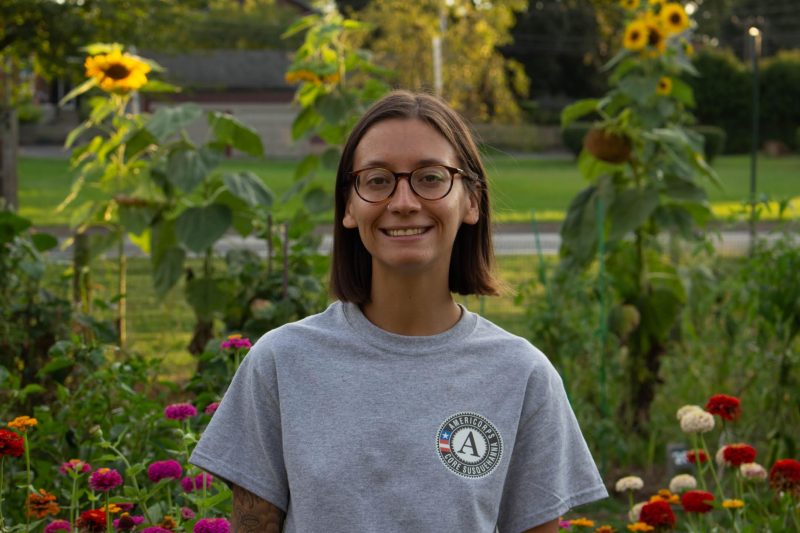 Sarah is a recent Bucknell graduate and future social worker who is currently serving her second term of AmeriCorps here in Lewisburg. She is passionate about environmental justice and the way that food sovereignty is tied to climate justice issues. In a globalized world community gardens give her hope for re-empowering communities to get back in touch with where their food comes from. In revitalizing our current agriculture system, communities at a local level can eat locally and practice environmental stewardship through growing their own food.
A one-year AmeriCorps appointment, The Education and Outreach Coordinator will assist the Lewisburg Community Garden (LCG) in advancing its goals of supporting area food access by cultivating organic produce for donation and by providing space for community members to rent plots, and to offer increase educational opportunities to area residents emphasizing sustainability, nutrition, organic growing practices, and environmental stewardship. Sarah can be reached at smw023@bucknell.edu. Her office is located inside the Office of Civic Engagement.
---
Frequently Asked Questions
Who runs the Garden?
The Garden is a joint project between Bucknell University and the Borough of Lewisburg.  The Office of Civic Engagement at Bucknell University oversees the day-to-day operations of the Garden.  A community-led advisory board directs the mission and vision of the garden.
Who uses the Garden?
The 18,600 square-foot Garden is divided into two sections. One portion contains 39 plots available for rent by community members, and the rest is cultivated by Bucknell and community volunteers for use at local hot meal and food bank programs. Being a Lewisburg resident is not mandatory when renting a plot, but preference is given to Borough residents, and people that lack any suitable growing space at home. Additionally, the Garden hosts a variety of educational and social events for the community, and supports many Bucknell courses and programs. The Garden is considered a public space, open to anyone that wishes to spend time relaxing in nature (we ask that visitors do not disturb garden plots, or remove produce or equipment).
Who benefits from the Garden?
Since its founding in 2012, more than 10,000 pounds of fresh, organic produce has been donated to 11 hot meal and food bank programs in Union, Snyder, and Northumberland counties. The  primary recipient is Community Harvest, a hot meal program managed by the Bucknell University Office of Civic Engagement that serves approximately 60 to 100 free meals every Monday in  nearby Milton. The Garden also acts as an educational space,  engaging with K-12 students through summer camps and special  programs, and serving as community-based learning site for Bucknell courses and programs. Additionally, citizens without adequate yard space benefit from the opportunity to grow their own organic produce, with guidance and support from local experts. A variety of free community events are offered, including enrichment sessions on topics such as organic pest management and food fermentation, as well as social events like potluck meals and seed swaps. More than 125 community groups and educational programs and courses have accessed the garden since its inception.
How is the Garden funded?
Community plot renters pay a fee of $30 for the season (lasting from April through December, with the option to practice season extension through the winter). These funds are applied to core operating costs, such as the water bill and equipment repair. Bucknell University has frequently provided funds to support the AmeriCorps members that provide so much service to the Garden, and provides the salary for our Farm and Garden Coordinator. Additionally, Bucknell often provides in-kind support through donations of materials and labor. The additional funds necessary to for Garden operations and special programs, such as our summer camps and community events, are garnered through individual and corporate donations, and through annual fundraising events like the Spring Plant Sale.
How can I get involved?
The community plot rental process typically opens in early March. A limited number of plots are available, and plots will be allocated by a lottery system if we receive more applications than we have plots available. The Garden is always in need of volunteers, particularly during the busy summer months when Bucknell is not in session. Please contact Farm and Garden Coordinator Jen Schneidman Partica if you are interested in volunteering (we host open volunteer hours on Tuesdays and Thursdays from 4:00 pm to 7:00 pm, and can arrange special volunteer work parties for groups). If you would like to make a financial or in-kind donation to the Garden, please contact Assistant Director of Service-Learning Kyle Bray.