2019 Plot Rental
Our application period has ended. To be added to the garden plot wait list, please fill out this form:
2019 Lewisburg Community Garden Plot Application
2019 Aplicación de Jardín Español (Spanish Garden Application)
To learn more about garden rules, view or download the 2019 Plot Renter Contract.
We follow organic practices in the garden. Click here for a list of what fertilizers and pesticides are permitted in the garden.
Come Volunteer With Us!
The Lewisburg Community Garden simply could not thrive without the support of a tremendous number of volunteers. Since 2012, more than 1,000 volunteers have provided nearly 5,000 hours of service. In addition to performing basic garden maintenance (planting, weeding, watering, and harvesting), volunteers assist with our educational and community-based programs, support our fundraising efforts, and develop ways for the Garden to be more effective and efficient in meeting its mission of promoting food access and environmental sustainability.
April through October, the Garden offers open volunteer hours every Tuesday and Thursday from 4-7PM, weather permitting. Can't make it to our open volunteer hours? Want to schedule a work party or day of service? Contact Jen Schneidman Partica to schedule a date and time for your group or organization.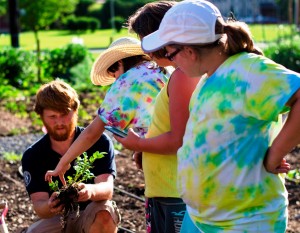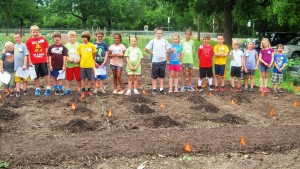 Interested in working for the garden this summer?
The Bucknell University Farm and the Lewisburg Community Garden are looking for two people to join our seasonal summer crew as AmeriCorps members! One member will serve as the Food Access Assistant, helping to ensure that our bounty of organic produce is properly harvested and stored, and quickly distributed to area food access programs. The other member will act as the Education and Outreach Coordinator, helping develop and lead the activities for our summer camps for kids from the Essex Place and Meadow View housing complexes and from the Buffalo Valley Recreation Authority. Both members will perform daily maintenance at the Lewisburg Community Garden and the Bucknell University Farm (watering, weeding, etc.), and will assist at the weekly Community Harvest hot meal program.
These positions will run from May 21 through August 3, and provide a living stipend of $3,636. Upon successful completion of the term, members will receive an education award of $1,612 to apply towards past, current, or future college tuition.
These positions are excellent for people passionate about food access, organic agriculture, and environmental sustainability. Previous horticultural experience is helpful, but not required – dedication, reliability, and a positive attitude are most important!
For more information or to apply, please contact Kyle Bray at kwb004@bucknell.edu, or 570-577-3928. Applications will be accepted until the positions are filled.