Hi, everyone! My name is Meghan, and I'm working with the Lewisburg Community Garden this summer as the Education and Outreach Coordinator, an AmeriCorps volunteer position. My primary responsibility is planning the curriculum for the summer camps that are happening at the garden, which kicked off a few weeks ago. It's been a great start!
Our first session was with campers from the Buffalo Valley Recreation Authority (BVRA) summer camp. It was a beautiful, sunny day, and we were extremely thankful to have such good weather for our first session.
During the camp session, the campers got to take a tour of the garden, participate in a scavenger hunt, harvest and taste fresh produce from the garden, do a mock "potluck," and learn about food insecurity.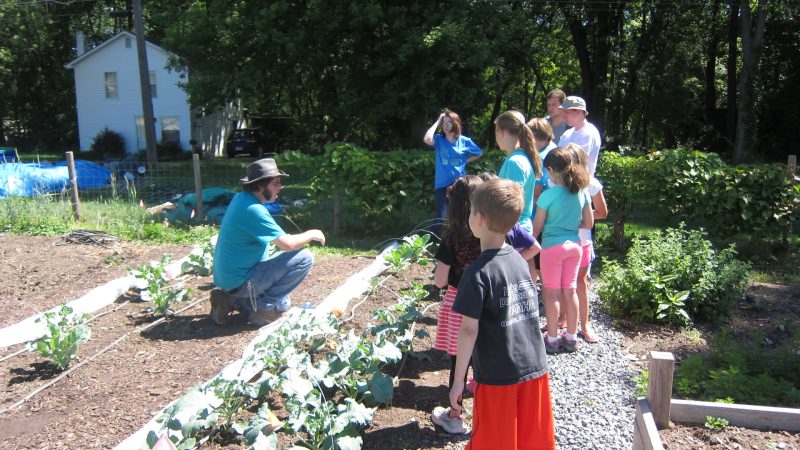 Touring through the garden. In this picture, we were taking a look at our broccoli and cauliflower, which we sometimes refer to by the name of their genus, brassica.
The tasting session was a big hit with the campers, many of whom were quite adventurous. Strangely enough, the favorite for many was raw onions! We think they're much sweeter this year than the ones that the kids tasted (and were not quite as enthusiastic about) last year. The campers also got to try strawberries, rhubarb, squash blossom, kale, greens, and many more items straight from the garden. That's one of the best parts about being an organic garden—because we don't use harmful pesticides, we can pick and eat straight from the garden! It makes a wonderful experience for kids and adults alike.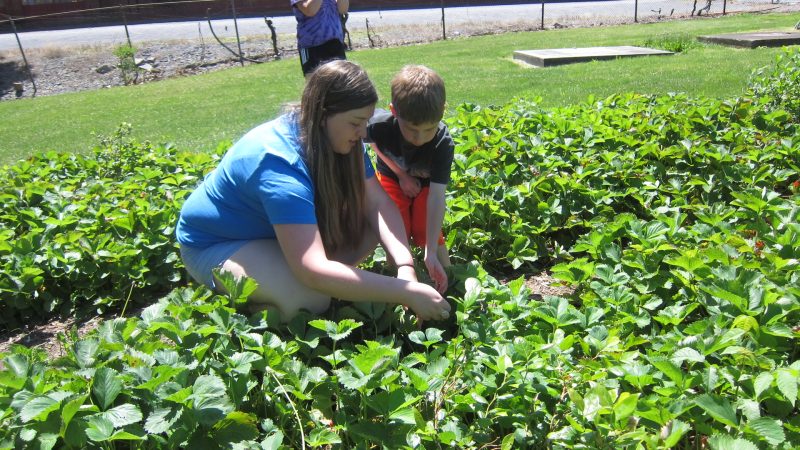 Picking strawberries from the berry patch. Our fresh strawberries are always a crowd pleaser!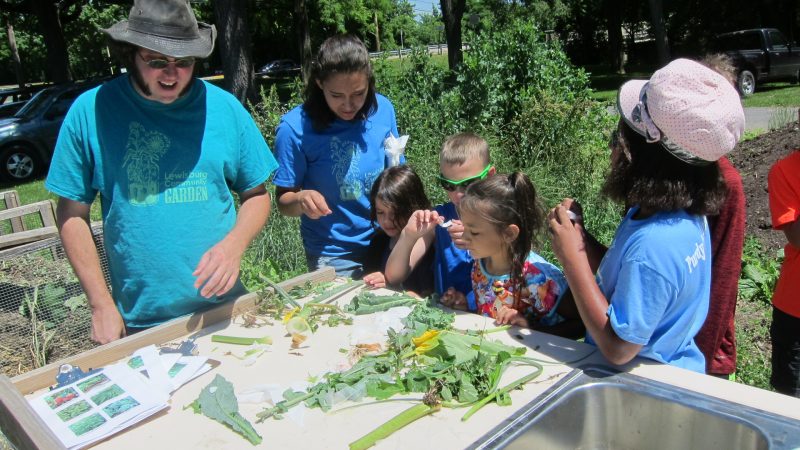 Finally getting to taste the harvest!
During BVRA's second camp, they got to plant seeds and starts in a bed we reserved for their use. They also got to learn about bed prep, plant parts, what plants need to grow, and how to care for plants. Unfortunately, we didn't have as great of luck with the weather during this session, and some thunderstorm clouds rolled in before everyone got to plant. On the bright side, that meant our new plants got lots of water to get them started.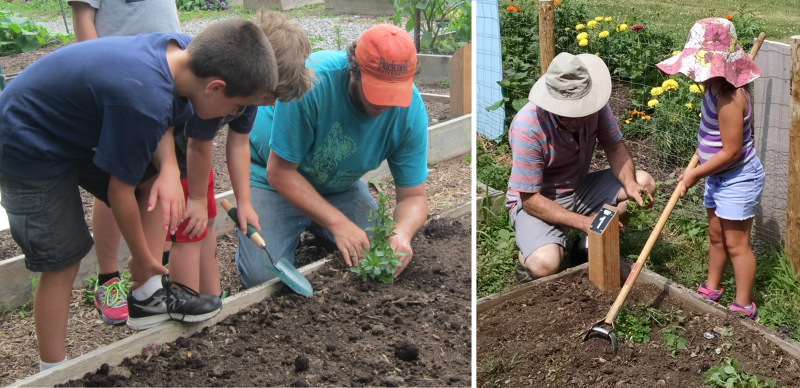 Prepping and planting in the beds. The camper on the right is using a scuffle hoe, a tool that helps efficiently clear the ground of small weeds. On the left, chocolate mint is being transplanted from an area where it was growing as a weed into its own spot in the bed.
We also had children and teenagers from Meadow View and Essex Place, two local affordable housing communities, join us for two sessions each. During their first sessions, they got to plant in their own beds like the BVRA campers. Among all three of these groups, there was a wide variety of seeds and starts planted, but one of the most popular was watermelon. It seemed like everyone wanted to plant it, and it was quite the disappointment when they found out that it wouldn't be ready for a while.
Essex Place and Meadow View also made garden wish flags during their first session to decorate their bed and show what they wished for their plants, and during their second session they were able to see the progress their plants had made from planting them just a week prior.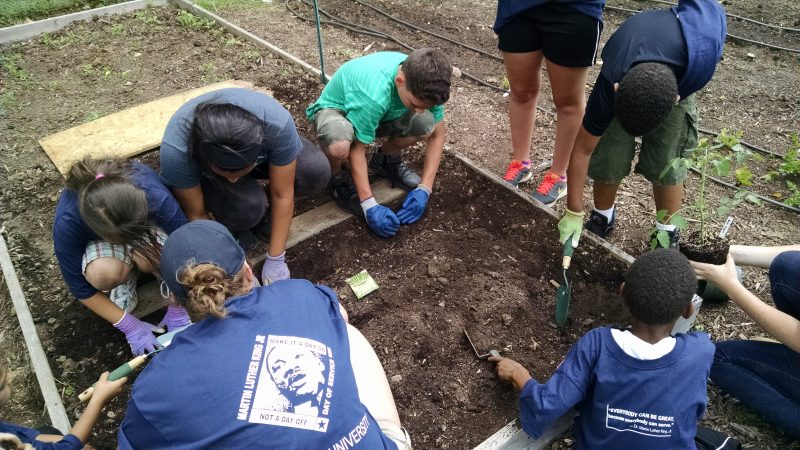 Planting with Essex Place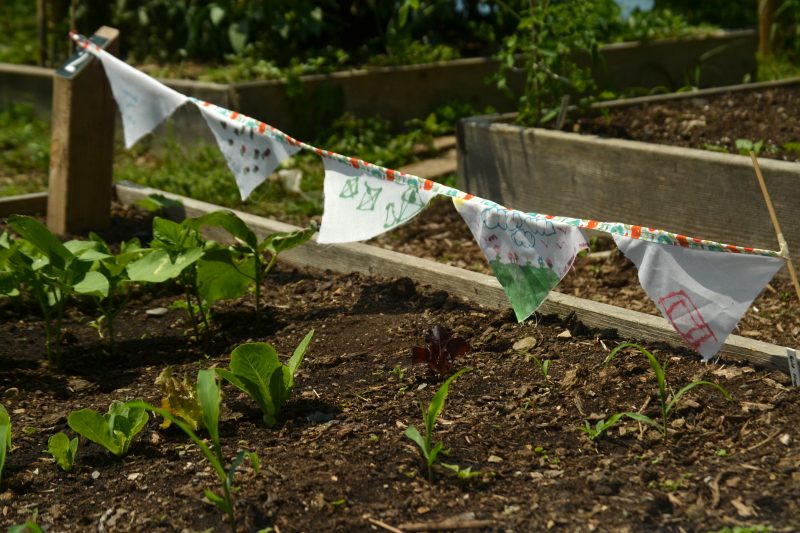 Wish flags hanging in the garden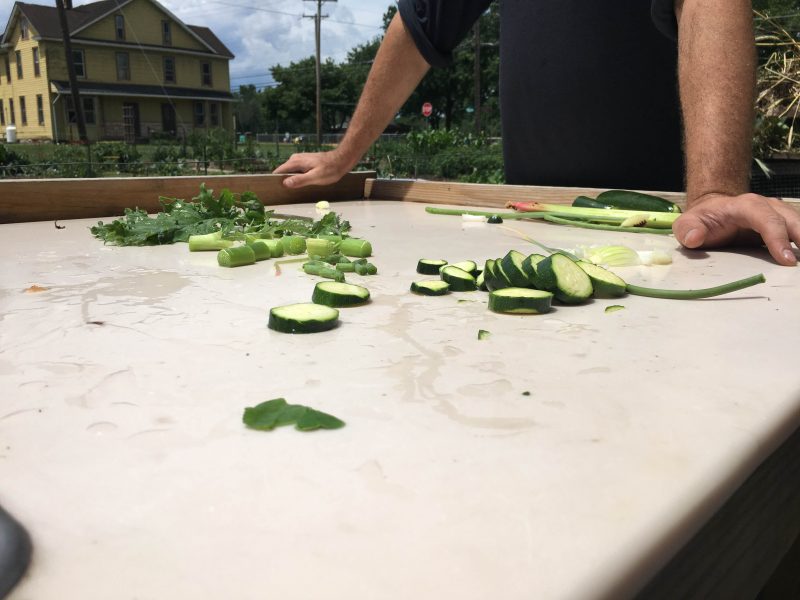 One five-year-old camper from Essex Place, apparently a budding photographer, took this photo during our tasting (in addition to many other lovely photos). Featured in this photo is rhubarb, green onion, and zucchini.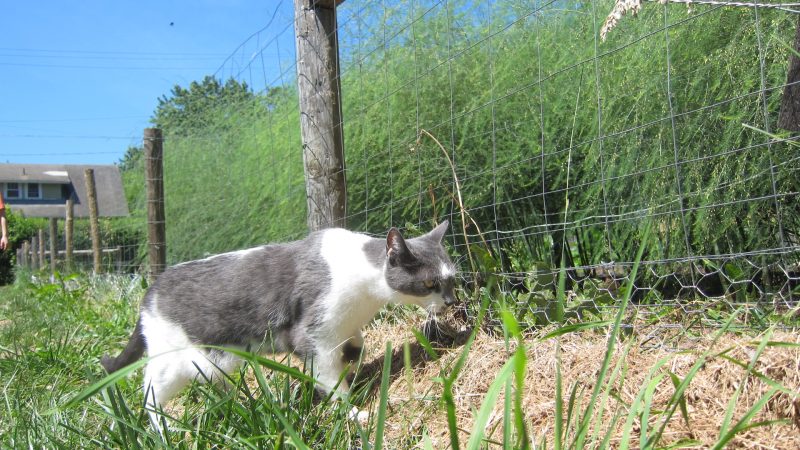 Mozart, our "garden cat," was also a favorite part of the garden for the campers.
Overall, it's been a wonderful few sessions with all of the kids, and our staff here at the garden has learned a lot as well through the camps. We still have four more BVRA camps to look forward to, during which we'll be covering topics from biodiversity to harvesting. We can't wait!