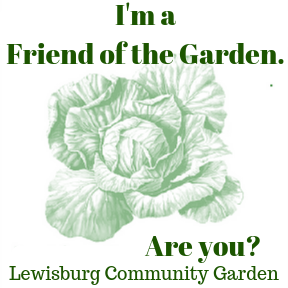 Monetary gifts support our produce donation efforts & garden education programs. We give a small token to show our gratitude for donations at the following levels:
Seed Level ($25): newsletter, sticker, name added to website donor list
Sprout Level ($50): seed level gifts, plus a seed packet
Sapling Level ($100): sprout level gifts, plus membership reception
Tree Level ($500): sapling level gifts, plus name a garden plot
The Lewisburg Community Garden welcomes recurring annual or monthly donations. Become a Perennial Donor and provide a reliable source of funding, allowing the garden to grow for years to come.
How to become a Friend of the Garden:
We have several options for giving.
Click here to donate online via credit card or paypal.
Or click here to print and mail this form with a check.
Thank you!
And please help us spread the word. You can reach out to friends, family and co-workers and ask them to consider giving to the Lewisburg Community Garden.