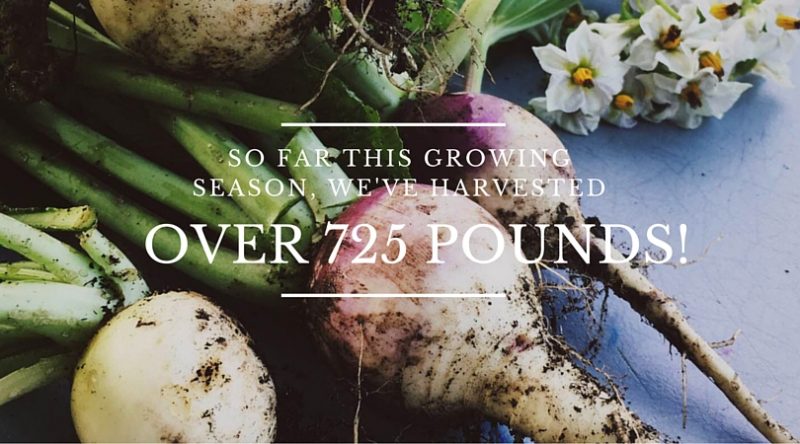 As many of you know, the garden is in full bloom and we are officially maxed out with plants growing in every single bed! If you have strolled through the garden recently, I'm sure you would agree that the Lewisburg Community Garden has become a vibrant and beautiful place.
Not only is the garden aesthetically pleasing, but recently the garden has been turning out an incredible amount of produce that has been donated to food programs throughout the community. Thanks to the wonderful garden staff, the great plot renters, and the many volunteers that assist us each week, the garden has been reaping the rewards of one of its best growing seasons yet. At this point in the season, we have already harvested over 725 pounds of fresh, organic produce!
Thus far, the garden has successfully produced a bountiful harvest of strawberries, onions, garlic, zucchini, broccoli, cauliflower, beets, turnips, herbs, and mixed greens, including kale, spinach, lettuce, mizuna,arugula, micro greens, collard greens, and chard. And this coming Monday we are expecting a harvest of over 100 pounds of spaghetti squash. Last year the garden produced a whopping 2,500 pounds of food and this season we are hoping to break over 3,000 pounds!
3,000 pounds of produce is truly a huge sum for our small area at the garden, and many of you may be wondering what we do with all these fruits and vegetables. Every single thing that is produced and harvested from the Lewisburg Community Garden is donated to a local food bank or hot meal program in the area. Here at the garden, we strive to make fresh, organic foods available to everyone in our community. Our main outlet for giving back to the community is through our hot meal program, Community Harvest. Community Harvest is a weekly community dinner held on Monday nights at the St. Andrew United Methodist Church in Milton. At Community Harvest, we try to provide a supply of fresh fruits, vegetables, and herbs to be incorporated into the meal. Whatever produce isn't used during Community Harvest is donated to local food banks throughout the area, including the Eastern County Food Bank, First Presbyterian Church of Lewisburg, Christ Wesleyan Church of Milton, the Donald Heiter Community Center, St. Pius X Catholic Church of Selinsgrove, St. Paul's UCC of Selinsgrove, and Haven Ministry in Sunbury. Already this summer, we have been able to donate over 550 pounds of produce to assist our local community!
Our goal at the garden is to donate as much of the food produced as we can with as little waste as possible. So far this summer we are off to a great start!